The Centers for Medicare & Medicaid Services' Medicare Learning Network
is offering several resources for providers looking for information on accountable care organizations and the Medicare Shared Savings Program.
Several electronic fact sheets that address topics are now available, including how to participate in an ACO and improve quality of care and information on the advanced payment model for ACOs. New fact sheets are also available detailing final rule provisions for ACOs under the shared savings program and fact sheets provide information on the methodology for determining shared savings and losses under the program.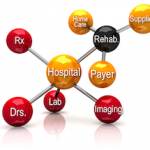 The latest ACO rules revision; requires half the number of performance measurements, removes the electronic health records requirement and eliminates financial risks for some groups. CMS also relaxed the timetable for the launch of the ACOs with groups allowing them to apply throughout 2012. To entice providers, CMS said it will make $170 million available starting next year to physician-owned and rural providers to start ACOs (Gold and Galewitz, 10/20).